---
Lightweight Heavy Duty Portable Winch Setup for anyone!
Putting a winch on your vehicle is like going 'wheelin' with an old buddy, it's there when you need it most! While trying to figure out what to do with the two Nissan Patrols, GMC Yukon XL, Jeep Cherokee (car-b-q last July and is toast now literally) and my Project TJ AKA the "Mad Cow" (yeah TXJEEPER wouldn't sell it with the winch), I realized it was going to be pretty darn expensive to outfit each of them with a winch. That led to what normally happens when someone doesn't want to be pinched by the almighty dollar - you get inventive. More inventions have come out of necessity and lack of funds than anything else.
I figured the obvious solution was a portable winch setup, since I can only drive one of these vehicles at a time, anyway. I hit the Net and saw how much it cost to outfit a rig with portable quick-connect type cables front and rear. It would cost me over $200 per vehicle for those. That meant for the four 4x4's I still have left at home, it would cost me more for the wiring (over $800) than it would for the winch. Now that just doesn't seem right. So I got to thinking and came up with a better mousetrap.
The first thing I needed was a winch, of course. One that would work in the worst-case scenario of freeing my heaviest vehicle - a 2001 GMC Yukon XL with a Gross Vehicle Weight Rating (GVWR) of 7,200 lb. So I used the rule of thumb to multiply the weight of the vehicle by 1.5 as a way to figure out how much winch I needed and that let me narrow the search down to only 12,000 lb capacity winches or stronger. I wanted a winch with a Series Wound motor, something that didn't weigh a ton so I could move it from vehicle to vehicle or front to rear and one that was affordable.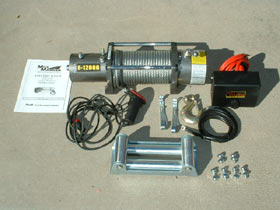 I found what I required with the Mile Marker E12000. It was the ONLY winch that met all these requirements. The Mile Marker E12000 weighs in at a mere 94 pounds (only 9 lb. more than a Warn XD-9000 winch), while the other 12k winches available weighed over 40 lbs more than the Mile Marker. This knocked them out of the "portable" category for me. The E12000 was also very affordable with a street price of around $600 today. As far as speed goes, a 12,000 lb. pull is very slow for all winch brands at less than four feet per minute, so that really wasn't a deciding factor.
The second item I needed was a portable winch plate and a front receiver to mount it on the Mad Cow out of the path of destruction. My current Bulletproof bumper has a front receiver but it is positioned down very low where it would put the portable winch in harm's way if I installed it there while hitting the trail.
In searching for a solution, I found a few receivers but I noticed one thing that was very impressive with the Draw-Tite product. It's portable winch plate uses a 2" square SOLID bar of steel welded to the mounting plate instead of the typical 2" by 0.25" thick wall tubing used on other brands. To top that, it has a welded-in skid plate up front in case you were to make contact with Terra Firma while on the trail.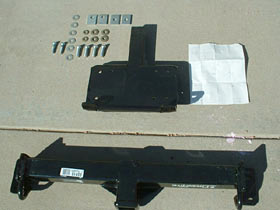 When the Draw-Tite portable winch plate arrived, I was initially bummed when I noticed that it is only rated for 9000 lb. at a pull angle of 45 degrees left or right from straight ahead and 15 degrees up or down from horizontal. Then I figured out that a straight pull equivalent of a 9000 lb. 45 degree pull is over 12,000 lb. I went and checked the specs on the winch and the Mile Marker E12000 winch develops 12,000 lbs of pull only on the first wrap on the drum. Based on that, I have two choices. I need to either limit my cable usage to all but the last wrap on the winch (the last wrap is normally only 15 feet or so and the winch manufacturer's recommend that you keep a certain number of wraps on it anyway to prevent it from coming off during operation) or limit my pull angle to straight ahead when I'm actually pulling 12,000 lbs (not very often even with a 7,200 lb. vehicle that rolls on wheels).
I decided that I would limit the cable usage to all but the last 15 feet (last wrap) since I do not want to exceed the manufacturer's rating for the winch plate. If I need more cable length, then I will add a strap between the cable and the vehicle. The Draw-Tite front-mounted receiver for the Jeep TJ is perfect for keeping the winch up high and clear of trail obstacles. When the portable winch plate is installed into the above frame rail receiver, it doesn't change your angle of entry, either. The going price for a Draw-Tite portable winch mount is around $80 (less than a lot of the hard mounts) and the front receiver for my TJ goes for about $120.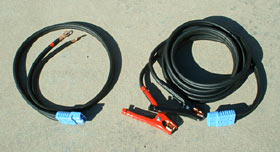 The third item required was a set of portable-type cables for the winch to provide electrical power. I searched online and found a set of Goodall Start All Plug-to-Plug cables from BatteryMart that would work perfect for this application. They are originally intended for starting vehicles and they have a plug-to-plug type connection. This was exactly what I was looking for. I picked up the 2 gage Duplex welding cable version from BatteryMart since they are rated for 500 amps. One cable is 5 ft long and has normal lug terminals for hard-mounting to the winch in this case and a plug on the other end. The other cable is 15 ft long and has heavy-duty booster cables at one end and a matching plug at the other end. These cables allow the owner of the winch to get power from ANY functioning 12/24 Volt source - not necessarily the vehicle with the winch, either! I'll go into this further a little later. BatteryMart stocks these for about $115. This alternative is much less expensive and more user-friendly than individual quick-connect cables on each vehicle.
One of the last items needed to help accomplish the "lightweight" portion of this system is a synthetic winch line and aluminum fairlead. I chose Off Road Only's X-Line Combo pack from LMT 4x4 Outfitters in Colorado Springs. It consists of 100 feet of 3/8 inch X-Line synthetic rope, an X-Line aluminum fairlead and an X-Line Protector sleeve. The weight difference between the standard steel 3/8 inch x 100 ft cable and the X-Line synthetic line is huge. It saved about 20 lbs off the total weight of the system. That 20 lb difference could make or break you when trying to relocate or add the winch system on your vehicle.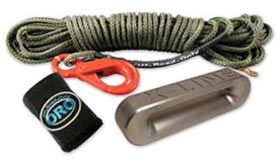 Most people with any knowledge of winching will agree that synthetic winch line is much safer and easier to work with than steel cable. It doesn't fray, kink, conduct heat or cold or create enough kinetic energy to cut you in half when it breaks. That's why the major rockcrawling competitions now require it. We got our X-Line Combo Pack from LMT 4x4 Outfitters and it is well worth the money.
Off-Road Only recently (end of 2003) revised it's X-Line synthetic rope from a 12 strand braid to a 24 strand braid to make it more durable. I picked up the older 12 strand version and it's been great so the new 24 strand version should be even better.
X-Line can handle up to 450F degrees before it loses half of its strength. So just to make sure the X-Line synthetic winch rope doesn't melt to or get weakened by the heat of the Mile Marker E12000 winch drum, I picked up a XV Fire Sleeve from XtremeVehicles Inc. The sleeve is made of high temperature resistant Fiberglass braiding and is rated for over 700 degrees F. It's installed just like a rock protector/wrap onto the synthetic rope. It slides over the metal tab end and covers the synthetic rope for the first wrap on the winch drum. By doing so, it provides an excellent thermal barrier while still allowing the metal tab at the end of the rope to be attached to the drum.
Also included with the XV Fire Sleeve are two pieces of 3M high temperature aluminum tape. It's the same stuff used for radiation shielding on rockets. Use the aluminum tape to wrap each end of the XV Fire Sleeve from unbraiding AFTER it is installed on your synthetic winch line. The XV Fire Sleeve is relatively cheap insurance to protect your high-dollar synthetic rope from melting to the drum or being weakened by the long-term effects of heat from the winch drum brake.
XtremeVehicles Inc sells twenty feet the XV Fire Sleeve for only $20. Twenty feet will provide about sixteen feet of coverage over 3/8 inch diameter synthetic rope due to the expansion of its diameter to conform to the rope. It will provide more coverage for for a 5/8 inch diameter rope.
| | |
| --- | --- |
| Starting the XV Fire Sleeve run | XV Fire Sleeve taped in place and ready to go |
Now that I had gathered all the components for this system, it was time to assemble and install them to see the results.
Everything goes together just as a normal winch would, except you have to remove the ground and positive cables attached to the Mile Marker solenoid and attach the 5 ft portion of the BatteryMart plug-to-plug cables. This requires opening the cover to the solenoids, removing the red power cable from the solenoid and installing the red power plug-to-plug cable, then reinstalling the cover.
| | |
| --- | --- |
| Inside the Mile Marker solenoid | When ready to use, simply connect the cables |
Then I attached the Draw-Tite front receiver to The Mad Cow. I replaced the grade 5 fasteners it came with, with grade 8 (see why in my previous article titled "Making the Grade"). I had to do a little grinding on the front receiver to make it fit, but otherwise it is exactly what I was looking for.
I attached the Mile Marker E12000 winch to the Draw-Tite portable winch receiver and slid it into the Draw-Tite front receiver mount. It fits nicely and looks even better, and gives my current bumper a kind of pre-runner look.
| | |
| --- | --- |
| Winch attached to the receiver. | The whole setup installed on the Jeep and ready for use. |
Lastly, I removed the 3/8 inch diameter standard heavy steel cable from the Mile Marker winch and put it in my winch bag as a backup to the synthetic rope in case it gets damaged or cut. I had to remove the roller fairlead and replace it with the X-Line aluminum fairlead from LMT 4x4 Outfitters before installing the synthetic rope. The Mile Marker roller fairlead fasteners are too large in diameter (1/2") for the X-Line aluminum fairlead so I had to hit the road to the hardware store for some 7/16" x 1" grade 8 fasteners. After installing the XV Fire Sleeve over the correct end of the synthetic rope, I wound up the X-Line onto the winch. It looks sweet!
| | |
| --- | --- |
| | |
The advantages of this winch system is it only weighs about 100 lbs TOTAL so it can be moved from front to rear to pull yourself out of something you got yourself into over your head (didn't bother to check the depth of the mud bog maybe?) or it can be moved from vehicle to vehicle with relative ease. It can be taken off and left at home while your using your vehicle as a daily driver, as well, thus protecting it from strangers with bad intentions in local parking lots or the weather and road grime and chemicals like we have here in Colorado (Mag-Chloride is nasty stuff).
It can be mounted on your buddy's rig, as well, if needed. In some cases, it can be installed on a non-winch-ready vehicle that is out of reach of other vehicles due to a roll or other mishap like sliding off a road or trail. No vehicle requires special wiring like with previous portable systems. All they need is a good battery and a receiver hitch (front or rear) which qualifies a large number of trucks and SUVs built today. Even the battery of another nearby running vehicle could be used to winch your non-running vehicle (i.e. ingested a little water into the engine during a crossing) to safety. Try that with a hard-mounted winch or any other portable setup!
| | |
| --- | --- |
| | |
For those of us with multiple vehicles, be it either 2x4, 4x4 or 6x6, a single lightweight heavy-duty portable winch system that can be used on any of them at any time is a huge advantage over all other options today. You don't have to spend more on winches and wiring for each vehicle than what you spent on any one of your vehicles to begin with. It would have cost me three times as much to outfit all four of my current 4x4's with a winch but with this system, it cost me only around $1200 and my setup can be used on any of my vehicles at any time or someone else's vehicle, if necessary. With the money I "saved" (rationale used by my wife), I can pick up something cool for The Mad Cow like a supercharger or finish off my last Nissan Patrol restoration project.
For safety sake, note that the Draw-Tite portable winch plate restricts you to not exceed a pull angle of 45 degrees horizontally or 15 degrees vertically when winching 9000 lbs. With that said, this system is probably not for the extreme wheeler. For us semi-hardcore and moderate wheelers, it's a perfect match.
Again, you do need to follow the manufacturer's recommendations and limits at all times. Other than the capacity restriction, which shortens the overall usable cable length by about 15 feet, it's a great lightweight, heavy-duty, portable winch system designed for the 'wheeler with multiple off-road vehicles - regardless of whether you have more money than sense.
ROCKCRAWLER 4x4 and Off-Road Magazine